At Gnam Gnam's we enjoy working with the community.  We work with non-profit organizations, schools and businesses
Ways we can help raise funds:
Non-Profit Organization –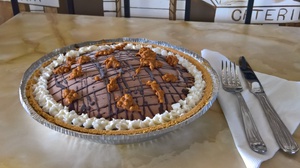 Schools – How can we work with your school to benefit your students, faculty, staff and parents?
Gift Cards make great gifts for hardworking teachers, administrators and exceptional students, a great student or teacher of the month award.
Cater breakfast or lunch for your next PTA board meeting or faculty/staff event… anything from egg wraps, croissants, continental breakfast to sandwiches or hot meals.
Our Gelato Cart is unique and without a doubt, it will add atmosphere to any school, staff or parent event.
Planning a school trip this Spring or Summer?  Let Gnam Gnam help you with fundraisers.
Looking for a different PTA fundraiser?  Let's plan a Gnam Gnam Week.  Gnam Gnam will donate back to the PTA for purchases made at Gnam Gnam Gelato & Bistro throughout the week, allowing parents and students to choose a day that works best for them.
Spring/Fall Festivals, Graduations & Sporting Events – Gnam Gnam can help with concessions by adding our popular sandwiches and gelato flavors.
The Gelato Cart and our Catering Services are available for honor student awards ceremonies, banquets, concerts, plays, summer camps and other school and faculty events.
Are you planning a Teacher Appreciation Day?  Let us help you with a healthy and tasty menu.
Looking for a unique idea for a Silent Auction?  Give us a call and we'll share some unique ideas.
Planning a Golf Tournament?  The Gelato Cart or a Lemon Slushy, made from our Lemon Sorbetto, will be a great treat on the course or at the Club House.
Businesses –